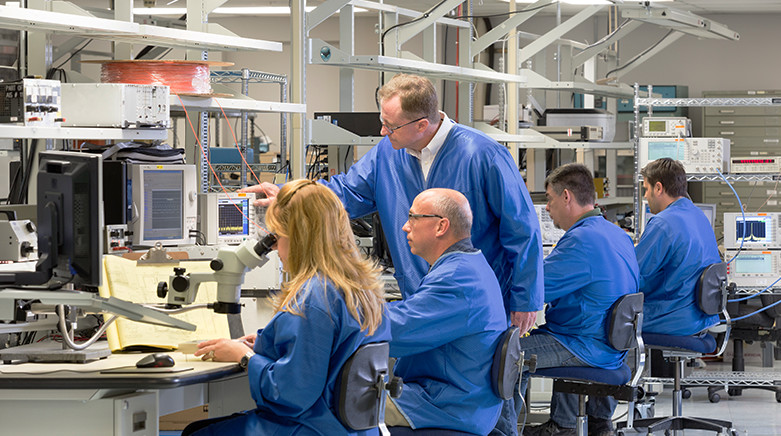 We're prepared and ready to solve all your RF/microwave and time and frequency challenges.
TRAK Microwave, a Smiths Interconnect brand, is committed to our customers' success in deploying the most advanced radar, electronic warfare systems, satellite communications, data links, public safety radio networks, and more. Our RF/Microwave component and subsystem heritage is deep, and we employ the most capable technical, operational, and management personnel in the industry. Our commitment to excellence is proven-with over fifty-five years of success in commercial communications, homeland security platforms, and military programs.
Markets
TRAK specializes in producing results for our customers in three main technology areas: time and frequency; RF/Microwave components and integrated assemblies; and high performance ferrite components and subassemblies. Our solutions are depended upon in dozens of space, military, and commercial programs.
Radar
Military and commercial aircraft
Shipborne
Missiles
Ground based platforms
Meteorology
Intelligence gathering satellites
Wireless base stations
Private radio systems
Collision avoidance systems
Distance measuring equipment
Airborne weather radar
In-flight entertainment
SATCOM
View our Commitment to Program Management >>
View our Quality Standards and Documentation >>
Get Application Engineering Support >>
Smiths Interconnect is a leading provider of technically differentiated electronic components, subsystems, microwave and radio frequency products that connect, protect and control critical applications in the commercial aviation, defense, space, medical, rail, semiconductor test, wireless telecommunications, and industrial markets.
Smiths Interconnect's technology brands (EMC, HYPERTAC, IDI, LORCH, MILLITECH, RF LABS, SABRITEC, TECOM and TRAK) are synonymous with exceptional performance whenever a technologically advanced, high quality solution is required to ensure reliability and safety. Our extensive product portfolio includes high reliability electrical connector and cable assemblies, solutions for antenna systems and a wide range of innovative RF and microwave solutions.
Smiths Interconnect's Microwave Telecoms brands (KAELUS, POLYPHASER, TRANSTECTOR and RADIO WAVES) provide high reliability cell site radio frequency conditioning, test and measurement and surge protection solutions for a variety of industrial and commercial applications.
Smiths Interconnect is part of Smiths Group, a global leader in applying advanced technologies for markets in threat and contraband detection, energy, medical devices, communications and engineered components. Smiths Group employs around 22,000 people in more than 50 countries.
To learn more visit: http://www.smithsinterconnect.com